Tunggul Hill in Lembang, West Bandung Regency - Indonesia
---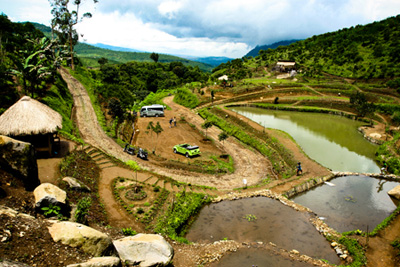 Another amazing vacation destination resides in Lembang Sub-District. The name is Tunggul Hill and it is located in Cibodas Village. Even though it is not popular as Punclut and Bintang Hill, many locals have taken advantage of the site to spend beautiful weekends or holidays! They often call it Kina Bukit Tunggul, as well. What makes it special, though? One of them is indeed the history, which is the reminiscence of the ancient Sunda Mountain's eruption during the prehistoric time. Another interesting fact is that it is the tallest hill as compared to others, located in either North Bandung or Lembang!
The Nuance
In terms of nuance, it is similar to others somehow. The temperature of the site is both cool and refreshing, which is suitable for relaxation. As for natural attractions, mountainous scenery and green lush trees (especially quinine trees) are seen clearly there. Local farms and basins also reside on the location (which often becomes an object of photography among tourists). Other features are traditional huts, rocks, a parking area, and toilets. Have no worries. The roads are good, so all types of vehicles can get to the site without hassles.
Exploring Tunggul Hill
The first allure of Tunggul Hill is none other than the local's myth. It is said the hill is related to a famous West Java's folklore "Sangkuriang". It is said, Sangkuriang came to this place to cut the biggest tree of the area (as the wedding requirement). His purpose was to use the woods he got from the tree and made a boat within only one night. For a more detailed story or information, tourists can ask the tour guide, actually. As an alternative, they can gather information from villagers freely (without spending any money).
The next charm of Tunggul Hill is its history. As briefly mentioned before, the hill is part of an ancient volcano's eruption. This completes other historical vacation spots like Pawon Cave, Stone Garden, Batu Mountain, and Sang Hyang Tikoro! Also, later (once arriving at the top of the hill), tourists can witness majestic views of nature. The scenery looks great for sure, due to the fact that it is the tallest hill for sightseeing in Lembang.
Here is another important fact. Tunggul Hill becomes the home of the famous lake called Situ Sangkuriang. The best thing is that tourists can enjoy fishing here! It becomes a wonderful experience, for sure. Fishing on the highland, surrounded by beautiful scenery, is indeed quite special for everyone. Near to this spot, visitors can find several outbound facilities for them to enjoy!
Nearby Attractions
Keraton Cliff
Omas Waterfall
Maribaya Waterfall
Bosscha Observatory
Moko Hill
Begonia Park
How to Get There
For those coming from Bandung City, the trip takes about 50 minutes to get to Tunggul Hill. It is because the distance is 16.2 km. First, travelers need to head to Lembang Sub-District and reach Cibodas Village afterward. It can be done through Djuanda and Dago Giri Street, actually. Still, make sure to come with families to get merrier nuance during the visit.
Where to Stay
Venetys Villa
Clove Garden Hotel
Grand Hani Hotel
Padasuka Hotel

Latest News
In the Journal of Nature (a scientific journal of high repute), Mounce et al (2017) revealed, widely that Botanical Gardens around the world have collected at least 105,634 species or equivalent to 30% of all known plant diversity worldwide. However, it was also disclosed that there are an estimated 75% of species that have not been conserved in the tropics. Therefore, the Bogor Botanical Gardens which incidentally located in the tropics and are included in the oldest botanical gardens in Southeast Asia, must be able to answer the conservation challenges…
---
The Bogor Botanical Gardens are the only natural destination in the middle of Bogor city with 87 hectares area. The transportation support capacity is very adequate to access this tourist location. Easy toll access and public transportation access are widely available, which are added values ??for the existence of this tourist location. The existence of the Bogor Botanical Gardens itself cannot be separated from the historical value of the existence of the Dutch in the colonial period, where it is known that the Bogor Botanical Gardens was founded by the…
---
Ranca Upas is one of the tourist destinations in Bandung. Here you can camp while looking at the herd of deer and stunning scenery. Ranca Upas is a tourist spot located in Rancabali District, Bandung Regency, West Java. Ranca Upas is also known as campground, which is a favorite place for nature lovers. At Ranca Upas you can camp in the meadow on a hill of about 1700 meters above sea level. The view in the morning really amazes like being abroad. Moreover, the cool air makes the atmosphere more…
---
Last year, the waterfall or in local language called as 'curug', became a very popular tourist destination for tourists. Its presence in remote areas makes tourists more curious and feels challenged to reach it. Local waterfalls are also crowded because at that time Indonesian citizens were hit by boredom due to the Corona virus pandemic which forced them to cancel their vacation plans. West Java is not only famous for its beautiful beaches and mountains. The area, which is divided into 18 districts and nine cities, also has tourism potential…
---