Rumah Sosis (Sausage House) in Lembang Sub-District, Indonesia
---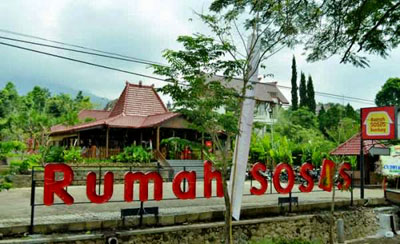 Those who live in Lembang Sub-District and nearby cities should be aware of the charm of "Rumah Sosis" or the Sausage House. As the name suggests, this tourist attraction offers numerous fun objects related to such delicious food. Aside from doing fun activities, visitors can enjoy various menu made of sausage for sure. This site resides in Jayagiri Village and it belongs to West Bandung Regency, Indonesia. Another important fact is that the management applies a particular slogan to this place, which is "eat, swim, and play". No wonder, it is perfect for family recreation both during holidays and weekends.
The Nuance
As mentioned earlier, many facilities are available on the site including a small pond for kids to swim. From the outside, this place looks small indeed. However, tourists would get impressed once they get to the location. The most noticeable feature perhaps is the swimming pool, but many other fun facilities are available including ATV, flying fox, horses, and tree houses. Here is the thing. Tourists should spend some money to enjoy them all during the visit. Have no worries. They can exchange the ticket they have bought earlier with a portion of sausage!
Exploring Sausage House
The most common reason to visit the Sausage House Indonesia is indeed to taste delicious sausages on the site. It is true the price is considered pricier than those of Supermarkets'. However, these are made originally by the management and offer unique taste. Not to mention these don't come with any preservatives. What is more? The guests can choose from 70 different types of sausages menu including bockwurst, barbeque, black pepper, and much more! Have no worries. Other types of foods are available for the guests to order including French fries, Liwet rice, spaghetti, etc.
Visitors do not have to eat sausages when coming to "Rumah Sosis", though. For instance, they can buy frozen sausages for their families or friends. Other types of frozen foods are also available there, especially meatballs! Do not forget to buy some ice creams too, coming with different sizes and types. Other recommended snacks and drinks to try are yogurts, beef floss, pastry, bottled beverages, etc. Once enjoying such culinary adventure, tourists can start exploring the site and enjoy various types of fun rides with their families!
For kids, they can ride ATV and play flying fox wholeheartedly. For adults, the most recommended activity would be fishing. The pond stores abundant carps and tilapias, after all. By paying the fee, tourists can fish for 2 hours and bring home any fish they have caught. What is next? Other fun facilities are available including mini golf court, car bombs, mini kora-kora, ATV, fun climbing, etc.
Nearby Attractions
Kampung Gajah Wonderland
Begonia Park
Rainbow Waterfall
How to Get There
From Bandung City of Indonesia, travelers only need to get to Lembang Sub-District using through Setiabudi Street. Later, they can simply head to Jayagiri Village and visit "Rumah Sosis" right away. The whole trip takes about 60 minutes as the distance is 17.4 km.
Where to Stay
Buah Sinuan Hotel
Grand Paradise Hotel
Pesona Bamboo Hotel
La Oma Hotel
Takashimaya Hotel

Latest News
In the Journal of Nature (a scientific journal of high repute), Mounce et al (2017) revealed, widely that Botanical Gardens around the world have collected at least 105,634 species or equivalent to 30% of all known plant diversity worldwide. However, it was also disclosed that there are an estimated 75% of species that have not been conserved in the tropics. Therefore, the Bogor Botanical Gardens which incidentally located in the tropics and are included in the oldest botanical gardens in Southeast Asia, must be able to answer the conservation challenges…
---
The Bogor Botanical Gardens are the only natural destination in the middle of Bogor city with 87 hectares area. The transportation support capacity is very adequate to access this tourist location. Easy toll access and public transportation access are widely available, which are added values ??for the existence of this tourist location. The existence of the Bogor Botanical Gardens itself cannot be separated from the historical value of the existence of the Dutch in the colonial period, where it is known that the Bogor Botanical Gardens was founded by the…
---
Ranca Upas is one of the tourist destinations in Bandung. Here you can camp while looking at the herd of deer and stunning scenery. Ranca Upas is a tourist spot located in Rancabali District, Bandung Regency, West Java. Ranca Upas is also known as campground, which is a favorite place for nature lovers. At Ranca Upas you can camp in the meadow on a hill of about 1700 meters above sea level. The view in the morning really amazes like being abroad. Moreover, the cool air makes the atmosphere more…
---
Last year, the waterfall or in local language called as 'curug', became a very popular tourist destination for tourists. Its presence in remote areas makes tourists more curious and feels challenged to reach it. Local waterfalls are also crowded because at that time Indonesian citizens were hit by boredom due to the Corona virus pandemic which forced them to cancel their vacation plans. West Java is not only famous for its beautiful beaches and mountains. The area, which is divided into 18 districts and nine cities, also has tourism potential…
---