Daun Village in West Bandung Regency, Indonesia
---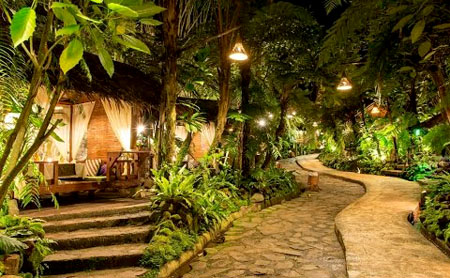 Those who live in West Java Province should have been familiar with Daun Village or "Kampung Daun". This famous tourist attraction is located in Cihideung Village and it belongs to Parongpong Sub-District, actually. What is the good about this place? Well, most people come to this site both for enjoying the beauty of nature and conduct culinary tourism. That means the guests can eat delicious foods while enjoying the serene and fresh atmosphere of nature at this place. This unique concept indeed becomes something new for travelers. No wonder, people who live in other regions often come to the site in order to get such amusing experience, especially when visiting West Bandung Regency.
The Nuance
The best time to visit Daun Village (Kampung Daun) is definitely in at night due to the romantic nuance. The structures apply antique traditional design and feature beautiful ornaments as well. Several food stands and gazebos reside on this site, which looks modest and distinct. Not to mention torches becomes a common ornament at night, emitting exotic atmosphere. This explains why many married couples and lovers are often seen at this location. They want to take advantage of such dreamy atmosphere to build a better relationship with such beloved person, after all.
Exploring Daun Village
Before visiting Daun Village, it is better to wear comfortable and warm clothes as the atmosphere can be quite chilly in the evening. At the entrance, the guests can find stands selling various types of traditional snacks and toys. These include Dodol, Congklak, etc. There are even an entertainment stage and souvenir outlets. Once getting in, visitors can start browsing available gazebo and eating place (based on their preferences). In terms of nuance, the site is dimly lit so visitors should be careful when exploring the route.
Daun Village relies on its serene and chilly atmosphere in order to lure more visitors from other regions. Not to mention they depend on delicious foods to satisfy all visitors regardless of the preferences of foods they want to enjoy. The most popular ones are indeed the local foods (Sundanese), including Batagor, Surabi, Liwet Rice, and Bandrek. However, visitors can enjoy foreign foods like pasta, steak, pizza, etc.
Unlike other cafes or restaurants, Daun Village offers a unique way to serve the foods. According to the management, they apply a particular concept which is "back to nature". No wonder, they may use coconut shells instead of plates when serving foods. With such uniqueness, the guests would experience a new dinner sensation there. It also becomes a good place to build a good memory with the special ones.
Nearby Attractions
Strawberry Farm
Bosscha Observatory
Begonia Park
The Nature Window
How to Get There
For those coming from Bandung City, the first destination is Parongpong Sub-District. Later, they only need to go to Cihideung Village. Their next destination is definitely Daun Village and this can be done through Sersan Bajuri Street. The distance is 16.9 km, so it may take around 50 minutes to get to the site.
Where to Stay
Grand Hani Hotel
Sapu Lidi Resort
Takashimaya Hotel
Klipsch Hotel

Latest News
In the Journal of Nature (a scientific journal of high repute), Mounce et al (2017) revealed, widely that Botanical Gardens around the world have collected at least 105,634 species or equivalent to 30% of all known plant diversity worldwide. However, it was also disclosed that there are an estimated 75% of species that have not been conserved in the tropics. Therefore, the Bogor Botanical Gardens which incidentally located in the tropics and are included in the oldest botanical gardens in Southeast Asia, must be able to answer the conservation challenges…
---
The Bogor Botanical Gardens are the only natural destination in the middle of Bogor city with 87 hectares area. The transportation support capacity is very adequate to access this tourist location. Easy toll access and public transportation access are widely available, which are added values ??for the existence of this tourist location. The existence of the Bogor Botanical Gardens itself cannot be separated from the historical value of the existence of the Dutch in the colonial period, where it is known that the Bogor Botanical Gardens was founded by the…
---
Ranca Upas is one of the tourist destinations in Bandung. Here you can camp while looking at the herd of deer and stunning scenery. Ranca Upas is a tourist spot located in Rancabali District, Bandung Regency, West Java. Ranca Upas is also known as campground, which is a favorite place for nature lovers. At Ranca Upas you can camp in the meadow on a hill of about 1700 meters above sea level. The view in the morning really amazes like being abroad. Moreover, the cool air makes the atmosphere more…
---
Last year, the waterfall or in local language called as 'curug', became a very popular tourist destination for tourists. Its presence in remote areas makes tourists more curious and feels challenged to reach it. Local waterfalls are also crowded because at that time Indonesian citizens were hit by boredom due to the Corona virus pandemic which forced them to cancel their vacation plans. West Java is not only famous for its beautiful beaches and mountains. The area, which is divided into 18 districts and nine cities, also has tourism potential…
---