Lembang Artificial Insemination Center (BIB) in West Bandung Regency - Indonesia
---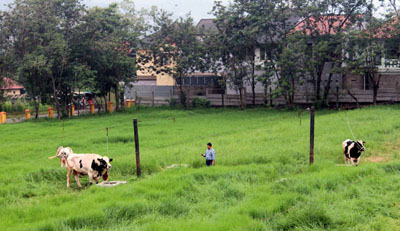 A vacation does not have to be the exploration of nature as many other fun options are available. For those who look for a new experience and knowledge, there is Lembang Artificial Insemination Center or BIB or 'Balai Inseminasi Buatan Lembang'. The location is in Kayuambon Village and it has been recognized by both the locals and foreigners due to its contribution in supplying frozen semen of cattle, including beef cattle and dairy cows. Today, the site has been there since 1975 and it becomes a unique tourist attraction in Lembang, especially for those who are curious about artificial insemination in indonesia.
The Nuance
Once tourists get to the site, they may see a lush savanna with lots of animals on it including cows, goats, sheep, and buffalos. The thing is that they are all males and they come both from foreign countries and local regions. The nuance is so soothing due to the strategic location, which is on a highland and surrounded by big trees. Several structures are also seen on the site including the office and sheds. Not to mention staff and workers are always ready to help visitors who want to get around the site during the visit.
Exploring Lembang Artificial Insemination Center
Before entering Lembang Artificial Insemination Center (BIB Lembang), the guests should get the permission from the staff. It is a good thing that there is no fee to enter this site and it opens for everyone, regardless of status. The only consideration is that tourists should come at the right time. It is bad to come when there is no nursery activity done by the staff, right? On the other hand, visitors can watch such process directly during the visit.
All races of cows are available on this site, which is quite impressive. Not to mention they have the weight of approximately 1 ton! The thing is that all these cows are males. It is because the staff would collect the semen of these animals and store it as quality seeds. Perhaps the most famous one is Benggala race, coming from India. Have no worries. Visitors are allowed to take pictures of those cows freely. It is even possible to conduct selfies!
During the semen extraction, the staff may feed the cow with stimulating hormones beforehand. Later, they collect the semen using an artificial female cow! What a unique way to collect quality seeds, no? Later, they might store the semen in a tube and keep it in a special fridge. At the end of the procession, the staff would bring the male cows to the open meadow until the afternoon.
Nearby Attractions
Begonia Park
Kampung Gajah Wonderland
Punclut
Moko Hill
Bosscha Observatory
How to Get There
It is easy to get to Lembang Artificial Insemination Center in Indonesia, even for those coming from Bandung City. First, take a local transportation service to Lembang Sub-District and head to Kayuambon Village afterward. This can be done through Djuanda and Dago Giri Street, actually. As for the distance, it is 16.1 km. That means the trip may take around 50 minutes to 1 hour.
Where to Stay
La Oma Hotel
Grand Hani Hotel
Green Forest Resort
Sandalwood Boutique Hotel
Venetys Villa


Latest News
In the Journal of Nature (a scientific journal of high repute), Mounce et al (2017) revealed, widely that Botanical Gardens around the world have collected at least 105,634 species or equivalent to 30% of all known plant diversity worldwide. However, it was also disclosed that there are an estimated 75% of species that have not been conserved in the tropics. Therefore, the Bogor Botanical Gardens which incidentally located in the tropics and are included in the oldest botanical gardens in Southeast Asia, must be able to answer the conservation challenges…
---
The Bogor Botanical Gardens are the only natural destination in the middle of Bogor city with 87 hectares area. The transportation support capacity is very adequate to access this tourist location. Easy toll access and public transportation access are widely available, which are added values ??for the existence of this tourist location. The existence of the Bogor Botanical Gardens itself cannot be separated from the historical value of the existence of the Dutch in the colonial period, where it is known that the Bogor Botanical Gardens was founded by the…
---
Ranca Upas is one of the tourist destinations in Bandung. Here you can camp while looking at the herd of deer and stunning scenery. Ranca Upas is a tourist spot located in Rancabali District, Bandung Regency, West Java. Ranca Upas is also known as campground, which is a favorite place for nature lovers. At Ranca Upas you can camp in the meadow on a hill of about 1700 meters above sea level. The view in the morning really amazes like being abroad. Moreover, the cool air makes the atmosphere more…
---
Last year, the waterfall or in local language called as 'curug', became a very popular tourist destination for tourists. Its presence in remote areas makes tourists more curious and feels challenged to reach it. Local waterfalls are also crowded because at that time Indonesian citizens were hit by boredom due to the Corona virus pandemic which forced them to cancel their vacation plans. West Java is not only famous for its beautiful beaches and mountains. The area, which is divided into 18 districts and nine cities, also has tourism potential…
---