The Lodge Earthbound Adventure Park in West Bandung Regency - Indonesia
---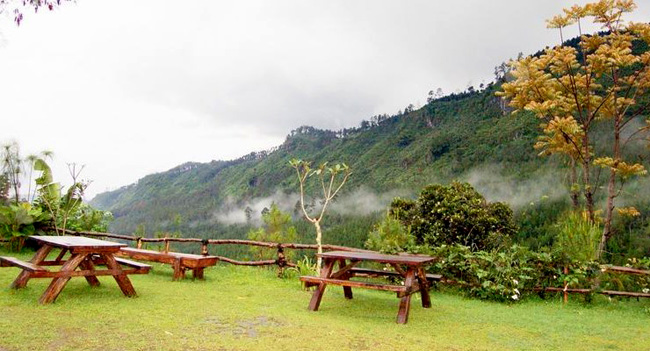 Another outbound facility resides in Cibodas Village, West Bandung Regency of Indonesia. The name is the Lodge Earthbound Adventure Park and it is as famous as numerous outbound facilities located in Lembang and Bandung. In a nutshell, the site is suitable for those who love outdoor activities and photography. The location is quite near to Djuanda Raya Forest and Lembang, so nobody can overlook its charm. Aside from photography and enjoying outbound activities, visitors can conduct a private party with either colleagues or families (as long as they have booked such type of service beforehand).
The Nuance
As the name suggests, this outbound site resides in Cibodas Village. That means it is located on about 1500 meters above the sea level, featuring cool ambiance and lush environment. In terms of size, the park has the width of about 3 hectares and it is built in a hillside. Have no worries. The location is accessible both by motorcycle and cars. Pay attention to the landscape, though. Some potholes are seen in some parts of the route. Once arriving at the site, tourists may feel a similar nuance to that of Yogyakarta's Kalibiru. Also, many outbound facilities reside in this area, especially flying fox.
Exploring the Lodge Earthbound Adventure Park
The best thing about Lodge Earthbound Adventure Park is indeed its complete facilities to conduct outdoor activities. The most famous facility is none other than flying fox. Have no worries. It is suitable for everyone regardless of the age, as long as they follow the instructions well before performing such activity. For those who do not like challenging activities, other fun things are available to try. For instance, they can join group trekking. It is both simple and fun, which also becomes a casual adventure for everyone.
The next recommended activity in the Lodge Earthbound Adventure Park is horse riding. Despite the limited number of horses on the site, all tourists would have the opportunity to ride it. What they need to do is to queue. As an alternative, renting a bike and getting around the park on it is indeed a good idea. Later, they can do other casual activities like rabbit feeding and nature painting.
Once enjoying lots of fun activities in the Lodge Earthbound Adventure Park, another recommended thing to do is to visit a nearby Sundanese Eatery called Dapur Hawu. Make sure to try the best dish and beverage in that place. In this case, tourists need to carry extra cash to pay those great foods. They may also use the money to use available facilities offered by the management, after all.
Nearby Attractions
Moko Hill
Keraton Cliff
Begonia Park
Tafso Barn
How to Get There
For those coming from Bandung City, the prime destination is none other than Cibodas Village. The distance is 18.7 km, so the trip takes approximately 50 minutes to get to the location. This can be done through Dago Giri Street, which is considered the fastest route. Next, they can ask the local regarding the direction to the Lodge Earthbound Adventure Park.
Where to Stay
Venetys Villa
Sandalwood Boutique Hotel