Kupu-Kupu Garden (Taman Kupu-Kupu) in Parongpong Sub-Ditrict, West Bandung Regency - Indonesia
---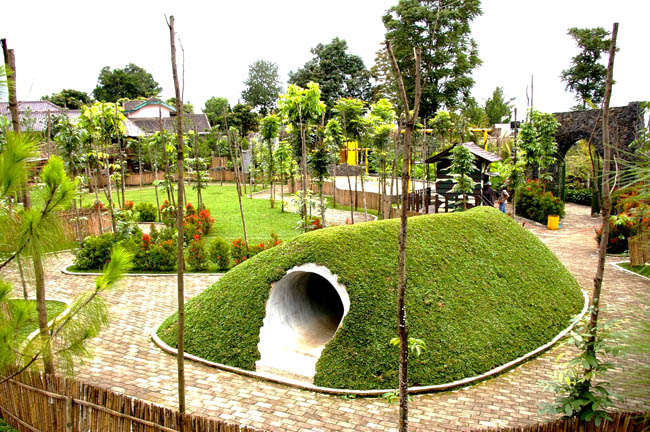 It seems West Bandung Regency has an unlimited option of vacation destinations for everyone to explore. Here is one of them. The name is Taman Kupu-Kupu resides in Cihanjuang Village, Parongpong Sub-District. The government built this site as a recreation facility for tourists. In terms of name, "Kupu-Kupu" means butterflies and Taman means garden. Why is that? As the name suggests, the garden becomes a captive breeding site for such beautiful creatures! Visitors can even learn many species of butterflies during the visit. This also explains why many local families often come to this place with their kids, teaching them about butterflies.
The Nuance
In terms of nuance, Kupu-Kupu Garden is both neat and serene. It has the width of 1.7 hectare and tourists can find more than 300 butterflies, belonging to 35 different species. Have no worries. They won't fly out the garden as the keepers have installed nets to keep them inside the captive breeding site. The next feature of the garden is grassy land with some flowers and trees on it. No wonder, the ambiance feels so comfortable and looks beautiful there.
Exploring Kupu-Kupu Garden
The first allure of Kupu-Kupu Garden is its educational value. Visitors are able to learn various types of beautiful butterflies and how to breed them. On the site, they can even watch the metamorphosis process directly. This kind of education is indeed quite worthy for kids! No wonder, most visitors are local families who often come with their children. Have no worries. The staff would guide everyone and tell information clearly. Don't feel afraid to ask something, therefore. For lucky guests, they can even join the keepers to take care those butterflies!
The next recommended activity to do in this garden is to buy several unique souvenirs. It is true the site offers cute accessories related to butterflies. Not only it has many options, but it also comes at a good price. What is next? The site is popular among those who love photography. These people often come to the garden and take pictures of both the nuance and such stunning creatures. One thing, it costs some money sometimes as the keepers would either allow or prohibit the guests to use their camera freely on the site.
Another reason why Kupu-Kupu Garden becomes popular is the demand for a unique wedding venue among locals. The fact is that the garden features a multipurpose room, used for numerous occasions like weddings. The size is big and it comes with excellent facilities. Here is the thing. Make sure to book the room long before the D-day.
Nearby Attractions
AG Aquarium
Taman Rakyat Plaza
Fame Station
Amazing Art World
How to Get There
From Bandung City, travelers can take any local transportation service to Parongpong Sub-District and head to Cihanjuang Village afterward. The best route to take is Layang Pasupati Street and the distance is 15.km. That means the trip would take about 45 minutes to get to the garden. No need to hire a guide, though.
Where to Stay
Gegerkalong Asri Hotel
Anugrah Hotel
Moscato Hotel
Pilatus Hotel

Latest News
In the Journal of Nature (a scientific journal of high repute), Mounce et al (2017) revealed, widely that Botanical Gardens around the world have collected at least 105,634 species or equivalent to 30% of all known plant diversity worldwide. However, it was also disclosed that there are an estimated 75% of species that have not been conserved in the tropics. Therefore, the Bogor Botanical Gardens which incidentally located in the tropics and are included in the oldest botanical gardens in Southeast Asia, must be able to answer the conservation challenges…
---
The Bogor Botanical Gardens are the only natural destination in the middle of Bogor city with 87 hectares area. The transportation support capacity is very adequate to access this tourist location. Easy toll access and public transportation access are widely available, which are added values ??for the existence of this tourist location. The existence of the Bogor Botanical Gardens itself cannot be separated from the historical value of the existence of the Dutch in the colonial period, where it is known that the Bogor Botanical Gardens was founded by the…
---
Ranca Upas is one of the tourist destinations in Bandung. Here you can camp while looking at the herd of deer and stunning scenery. Ranca Upas is a tourist spot located in Rancabali District, Bandung Regency, West Java. Ranca Upas is also known as campground, which is a favorite place for nature lovers. At Ranca Upas you can camp in the meadow on a hill of about 1700 meters above sea level. The view in the morning really amazes like being abroad. Moreover, the cool air makes the atmosphere more…
---
Last year, the waterfall or in local language called as 'curug', became a very popular tourist destination for tourists. Its presence in remote areas makes tourists more curious and feels challenged to reach it. Local waterfalls are also crowded because at that time Indonesian citizens were hit by boredom due to the Corona virus pandemic which forced them to cancel their vacation plans. West Java is not only famous for its beautiful beaches and mountains. The area, which is divided into 18 districts and nine cities, also has tourism potential…
---