Ciwangun Indah Camp in Parongpong Sub-District, Indonesia
---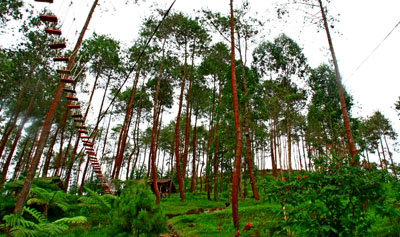 Here is a good reference to spending a family recreation. The name is Ciwangun Indah Camp (CIC), located in Parongpong Sub-District, Bandung of Indonesia. To be exact, it resides in Cihanjuang Rahayu Village and the location is quite near to the famous Tilu Leuwi Opat Waterfall. Many locals say that it is the paradise for those who love outbound and outdoor activities. Thanks to the facilities. Visitors can enjoy different types of fun activities like camping, team building, hiking, company gathering, and much more! As an alternative, visitors can simply take advantage of the nuance to relieve stresses.
The Nuance
In terms of nuance, Ciwangun Indah Camp features lush and pristine environment. The guests may see big and shady trees on the site and numerous types of plants and flowers nearby. The landscape is unique, combining both hills and valleys. The atmosphere is cool, but it becomes colder at night (make sure to wear warm clothes during the visit, therefore). What is more? Other features include pine forest, waterfalls, and bushes! Several cottages and outbound facilities reside on this site, as well, in fact. With this feature, CIC becomes a complete place for exploring the nature.
Exploring Ciwangun Indah Camp
The main allure of CIC is none other than its outbound facilities. However, people have different reasons when visiting the site. For example, they want to conduct a family recreation by exploring the nearby pine forest. Surrounded by trees and fresh air, such activity would be both meaningful and comfortable. In this forest, tourists can build a tent or enjoy other activities like hiking. Thanks to lush trees. No one feels bored or tired when exploring the site regardless of the activity.
The next allure is the tea plantation! It is because Ciwangun Indah Camp resides side by side to PTPN VII's tea gardens. The good thing is that everyone can enter the location freely, as long as they don't spoil the environment. What is next? There is Situ Lembang River! Tourists can conduct river exploration while hiking in CIC, after all. The water looks soothing and it feels refreshing as well. No wonder, everyone is likely to get in the water and take a bath in it.
During the exploration in Ciwangun Indah Camp, the guests may pass through several valleys. The ambiance is amazing, so make sure to prepare a camera to capture beautiful pictures of nature. Next, do not overlook the presence of an artificial lake located on this site. The management has built several ponds and gazebos to facilitate the guests, both for resting or eating area.
Nearby Attractions
Tangkuban Perahu Mountain
Bugbrug Waterfall
Ciwangun Outbound Site
Cimahi Rainbow Waterfall
Tilu Leuwi Opat Waterfall
How to Get There
Have no worries. It is easy to get to Ciwangun Indah Camp. From Bandung City, tourists only can directly head to Parongpong Sub-District. Next, they need to approach Cihanjuang Rahayu Village to find the site. The whole trip may take around 1 hour and 20 minutes as the distance is 20.5 km. Also, always take the best route which is Sersan Bajuri Street.
Where to Stay
Cherish Hotel
Alam Sejuk Agro Hotel
Stevie G Hotel
The Green Forest Resort

Latest News
In the Journal of Nature (a scientific journal of high repute), Mounce et al (2017) revealed, widely that Botanical Gardens around the world have collected at least 105,634 species or equivalent to 30% of all known plant diversity worldwide. However, it was also disclosed that there are an estimated 75% of species that have not been conserved in the tropics. Therefore, the Bogor Botanical Gardens which incidentally located in the tropics and are included in the oldest botanical gardens in Southeast Asia, must be able to answer the conservation challenges…
---
The Bogor Botanical Gardens are the only natural destination in the middle of Bogor city with 87 hectares area. The transportation support capacity is very adequate to access this tourist location. Easy toll access and public transportation access are widely available, which are added values ??for the existence of this tourist location. The existence of the Bogor Botanical Gardens itself cannot be separated from the historical value of the existence of the Dutch in the colonial period, where it is known that the Bogor Botanical Gardens was founded by the…
---
Ranca Upas is one of the tourist destinations in Bandung. Here you can camp while looking at the herd of deer and stunning scenery. Ranca Upas is a tourist spot located in Rancabali District, Bandung Regency, West Java. Ranca Upas is also known as campground, which is a favorite place for nature lovers. At Ranca Upas you can camp in the meadow on a hill of about 1700 meters above sea level. The view in the morning really amazes like being abroad. Moreover, the cool air makes the atmosphere more…
---
Last year, the waterfall or in local language called as 'curug', became a very popular tourist destination for tourists. Its presence in remote areas makes tourists more curious and feels challenged to reach it. Local waterfalls are also crowded because at that time Indonesian citizens were hit by boredom due to the Corona virus pandemic which forced them to cancel their vacation plans. West Java is not only famous for its beautiful beaches and mountains. The area, which is divided into 18 districts and nine cities, also has tourism potential…
---