Lembang Farm House in West Bandung Regency, Indonesia
---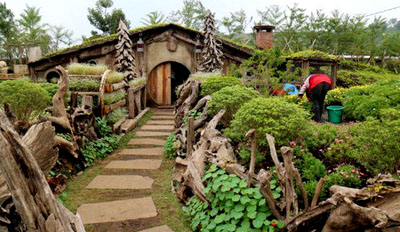 An interesting vacation destination resides in Lembang Sub-District called Lembang Farm House, Indonesia. This famous place has become quite phenomenal these days due to its unique concept. In a nutshell, it combines plantation and stock husbandry, applying European style as well. The location is in Gudangkahuripan Village and it belongs to West Bandung Regency. This site is considered new, but it has gained lots of popularity among both locals and tourists. Another important fact is that this place belongs to the same business group with Sosis House, Floating Market, and D'Ranch!
The Nuance
In terms of nuance, Lembang Farm House offers a European atmosphere. That means visitors may feel that they spend a vacation in a foreign country. Once they get in, numerous types of plants welcome them. The next noticeable feature is the giant container of milk located near to the entrance. Next, there are two parks offering different attractions to the guests. These include the artificial waterfall and Cactus Park. Several birds and exotic animals are kept on this farm, as well! Perhaps, the most amusing feature of the farm is the Hobbit's house, which is similar to that of Frodo Baggins' of the Lord of the Rings!
Exploring Lembang Farm House
The most noticeable charm of Lembang Farm House is definitely its nuance, which represents a particular urban area in Europe. That means it is both romantic and exotic! Once tourists get in the farm, they can start to explore it and take some pictures in front of any unique objects including the hobbit house. This structure has a small size with distinct design, which is similar to that of the New Zealand's. It is possible to enter the building, but tourists should bend their body to pass through such hobbit house.
As for girls and women, they have an opportunity to try unique dresses that represent European style in the earlier times. The thing is that they must pay the rental fee for those dresses hourly and the price varies depending on the type of dress they are going to use. The most popular ones are Cinderella and maid dress, actually. Next, tourists should approach the site where "Gembok Cinta" resides. It is the place where visitors can leave a padlock, representing the unbreakable love with their lover!
What is more? The next attraction is a mini zoo where tourists can witness several types of birds, rabbits, and other animals. Somehow, this place is suitable for photography as tourists are allowed to take pictures of those cute animals. Later, before going home, they can exchange the ticket with either a sausage or a cup of milk at the available booth!
Nearby Attractions
The Nature Window
Begonia Park
Raya Forest Park
Moko Hill
Keraton Cliff
How to Get There
For those coming from Bandung City, their prime destination is definitely Lembang Sub-District in West Bandung Regency, Indonesia. The distance is 15.6 km, so it takes around 48 minutes to get there. As for the route, they can take Setiabudi Street. Lastly, they can simply head to Gudangkahuripan Village where the farm resides.
Where to Stay
Klipsch Hotel
Grand Hani Hotel
Sayuli Hotel
Grand Mercure Hotel
Venetys Villa

Latest News
In the Journal of Nature (a scientific journal of high repute), Mounce et al (2017) revealed, widely that Botanical Gardens around the world have collected at least 105,634 species or equivalent to 30% of all known plant diversity worldwide. However, it was also disclosed that there are an estimated 75% of species that have not been conserved in the tropics. Therefore, the Bogor Botanical Gardens which incidentally located in the tropics and are included in the oldest botanical gardens in Southeast Asia, must be able to answer the conservation challenges…
---
The Bogor Botanical Gardens are the only natural destination in the middle of Bogor city with 87 hectares area. The transportation support capacity is very adequate to access this tourist location. Easy toll access and public transportation access are widely available, which are added values ??for the existence of this tourist location. The existence of the Bogor Botanical Gardens itself cannot be separated from the historical value of the existence of the Dutch in the colonial period, where it is known that the Bogor Botanical Gardens was founded by the…
---
Ranca Upas is one of the tourist destinations in Bandung. Here you can camp while looking at the herd of deer and stunning scenery. Ranca Upas is a tourist spot located in Rancabali District, Bandung Regency, West Java. Ranca Upas is also known as campground, which is a favorite place for nature lovers. At Ranca Upas you can camp in the meadow on a hill of about 1700 meters above sea level. The view in the morning really amazes like being abroad. Moreover, the cool air makes the atmosphere more…
---
Last year, the waterfall or in local language called as 'curug', became a very popular tourist destination for tourists. Its presence in remote areas makes tourists more curious and feels challenged to reach it. Local waterfalls are also crowded because at that time Indonesian citizens were hit by boredom due to the Corona virus pandemic which forced them to cancel their vacation plans. West Java is not only famous for its beautiful beaches and mountains. The area, which is divided into 18 districts and nine cities, also has tourism potential…
---